Will Marshall
Character information
Accomplishments

Brother of Holly, Son of Rick. Found out Enik's theory before anyone else

Species
Notes

Very adventurous
Will Marshall is brother of Holly and son of Rick Marshall.
Wesley Eure credited simply as "Wesley."
Background
Edit
Will frequently suffer bouts of sibling rivalry with his sister Holly, though they overcome such issues when the situation becomes difficult enough. Will is the most adventurous of the Marshalls, frequently taking "shortcuts" as an excuse to explore new territory, and tampering with Pylons to determine their function. He was once trapped in a pylon with his father as many time door ways were opened. He even saw his time but chose not to go because Holly was not with them. He likes to fish and he created the only fishing pole in the Land of the Lost but when he caught a fish, Cha-Ka thought it was evil and threw it into the river. Will taught Cha-ka how to shake hands, and also helped him learn to speak English. At 16, Will is older than Holly and he is always convincing her to go exploring with him. He knows how to scare her, and does sometimes. He also teases her and gets on her nerves. He is brave. He chases Sleestak with torches and gets close up and personal with the dinosaurs. In episode 6 of the 3rd season he gets poisoned by Torchy. He was healed by just staying in bed.
2009 film
Edit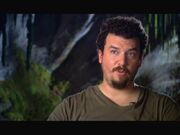 Will, instead of being Marshall's son, is an amusement park operator and survivalist.
Notes and Trivia
Edit
Will's name is changed for the film, from Will Marshall, to Will Stanton.
Actor Wesley Eure filmed Land of the Lost while simultaneously working on the daytime TV soap opera Days of Our Lives.